Most searched keywords:
cabbages
tomato
watermelon
carrot
tomato disease
disease
potassium
deficiencies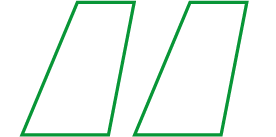 ZOOM on a deficiency ❌ Potassium deficiencies 🌱
ZOOM on a deficiency ❌ Potassium deficiencies 🌱
A distinction must be made between true deficiencies (nutrient deficiency in the soil) and induced deficiencies, when nutrients are present but not assimilable by the plant.
Potassium is responsible for regulating the vital functions of the plant: assimilation of chlorophyll, resistance to diseases, drought and cold, regulation of sweating…
SYMPTOMS 👩⚕️
Potassium deficiencies can be identified by darker leaves. Older leaves are impacted first, they are chlorotic around the edges and then wilt. In addition, turgidity is weaker and leads to more lodging.
SOLUTIONS ✅
– As a curative measure, apply potassium sulfate.
– Rebalance the soil by adding organic matter.
– Possibly apply ash (leachable) or rock powder (slow release).
ZOOM on a disease ❌ Stem rot 🌱
Stem rot is caused by the Pectobacterium carotovorum bacterium. This bacterium has the particularity to develop in cultural debris present in the soil. It spreads by water and attacks the stems of the plant as well as its fruits.
SYMPTOMS
The inside of the stems rots and becomes hollow. This causes the plant to yellow and wilt. Large black bands appear along the stems.
A wet, slimy, soft rot can be observed on the fruit that spreads throughout the organ.
SOLUTIONS
– Cultivate on well-drained soils and on well aerated plots
– Avoid irrigation on the foliage
– Do not work in the plot when the plants are wet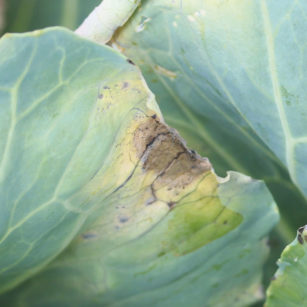 ZOOM ON a cabbage bacteria - Black rot 🦠
ZOOM ON a cabbage bacterium 🦠
Black rot in cabbage is caused by bacteria that attack the edges of the leaves and penetrate the plant causing black rot. This disease is considered the most destructive of cruciferous crops. It can survive in seed and crop debris for two years.
SYMPTOMS 👩
– Plant wilts and dies
– Yellow "V" shaped discolorations on the leaf margins.
– Leaf veins turn black
– Symptoms progress from top to bottom
DAMAGE PREVENTION ✅
– Use healthy seed.
– Remove crop debris after harvest.
– Do not replant cabbage for 3 years if the crop is infested.
– Choose well-drained soil.
– Do not irrigate with water from infected plots.
– Avoid walking in the field when plants are wet.
– Weed and remove crop debris after harvest.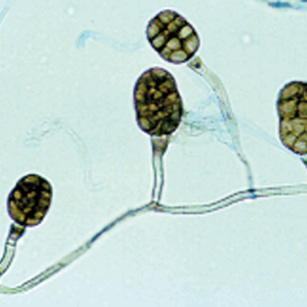 ZOOM ON a tomato disease - Stemphyliosis
ZOOM ON a tomato disease
Tomato stemphyliosis (Stemphylium spp.) is a fungus that causes small spots on leaves and stems of all ages. It spreads very quickly through rainwater and watering. The fungus produces severe damage on susceptible varieties.
SYMPTOMS
– Numerous small red brown spots sometimes angular and surrounded by yellow can be observed on the leaflets of the tomato
– The center of the spots becomes grey as the necrosis progresses
– Leaves turn yellow and may drop
– In some cases, similar longitudinal spots may appear on young stems
– Fruits are not affected
DAMAGE PREVENTION
– Remove as much crop debris and weeds as possible
– Avoid watering the foliage
– Apply a fungicide as soon as the first symptoms appear and after rains or watering
– Reduce planting density
POSSIBLE CONFUSIONS
On leaves :
– Alternaria
– Cercosporiosis
– Bacterial scab
Did you know this disease ?
x
connection
Log into the technisem CUSTOMER AREA to discover more than 500 varieties from our complete catalog
---
Forgot your password ?
You do not yet have access to the private area of ​​the Technisem site?
Get closer to your privileged contact within Technisem in order to receive your login details